Become a professional Bubble developer faster.
I've condensed 3,000+ hours of Bubble experience into one concise, actionable video course to take you from beginner to pro in a fraction of the time.
Why this course?
Hi, I'm Kieran.
Just over 3 years ago I was working full-time in a non-technical office job.  I'd never heard of no-code or Bubble.
I'd tried learning to code but failed every time.
If you'd asked me to build an app or earn a living as a freelancer, I would have been stumped.
I felt trapped.
3 years later, I'm a full-time professional Bubble freelancer working for clients around the world.
I own multiple SaaS apps of my own, have a 25k no-code audience on Twitter, and have sold over $40k of Bubble courses.
Crucially, I control my own time, can work from anywhere, and get to spend more time with my family.
My goal is simple: To get you from where I was 3 years ago, to where I am today, in a fraction of the time.
I've captured all of the knowledge I've acquired through 3000+ of hours of building, and am going to deliver it direct to your brain using concise, well-explained, actionable videos.
By the end of this course you will be well on your way towards:
Building your own profitable business using software
Becoming a full-time Bubble freelancer/developer
Becoming a Bubble educator
This isn't just another course where you sit and passively watch videos about concepts and are expected to apply them one-by-one in your own time.
I've structured it exactly as I like to learn:
No fluff, just actionable content
Along the way we're going to build real apps, starting out really simple and getting more complex, and learning all the concepts of Bubble along the way.
I truly believe this is the best way to learn.
By the end of the course you'll not only understand every aspect of Bubble, you'll also know all the tips, tricks, and processes for building a real app, AND you'll have a real app you built to customise into whatever you want it to be.
Let's go!
Kieran
Here's what one learner said about the Zero To Pro course…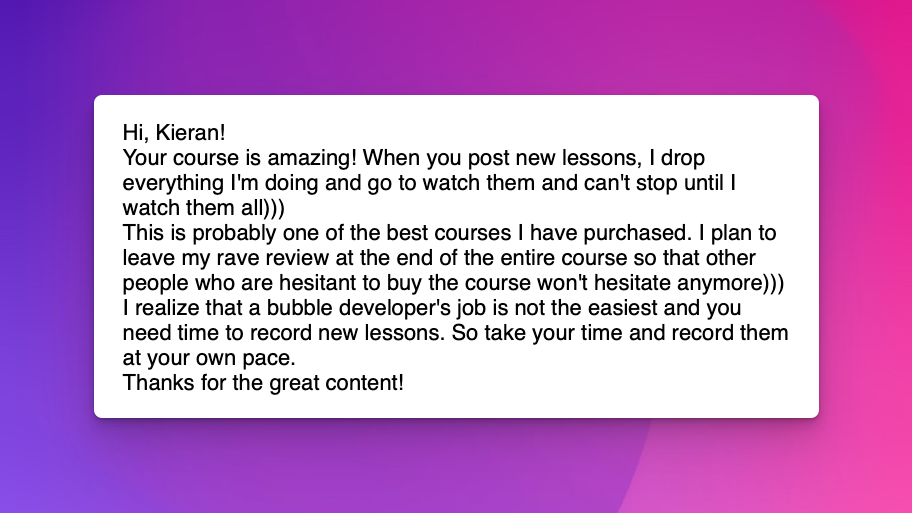 Why Bubble?
Here's a video I made on why I think Bubble is THE no-code platform to learn.
Course content
There is currently 22 hours of high quality video content and I'm not done yet! I will keep adding to the course every time I find an interesting or useful topic or tip. My goal is to make this the number one resource for learning Bubble.
Praise for my previous courses
"Kieran is an awesome Bubble teacher and coach. He is incredibly skilled and regularly launches cool products. He is able to translate complex ideas into actionable exercises for beginners. Definitely take this course!"
David Lobo, No-Code Advisor
"I so wish I'd had this course when I started my Bubble journey! Love the structure and your expertise will help many out there 💯"
Sharath, No-Code Maker and Founder
"Bubble Crash Course by Kieran and Pablo is my Bubble Bible. It introduced me to Bubble when I was a confused beginner, and it continues to help me today whenever I want to revisit specific concepts. Besides the high quality content within the course, Pablo and Kieran are super approachable on Twitter, and are always ready to go the extra mile to help out.I've already recommended this course to pretty much anyone who's asked me how to get started with Bubble, and I don't think I'm going to stop any time soon.Easily one of the highest ROI purchases I've made in my life. If you're looking for a friendly entry into the Bubbleverse, this course is a no-brainer."
Louis Pereira, No-Code Maker and Founder
"I bought this course and I'm thrilled with it so far! If you're looking for a great place to begin your Bubble journey, look no further.
Joseph Shoop, Senior marketing consultant
"It helped me go through all the steps and understand all the components (database, data types, custom states, workflows, UI, etc...). I can't recommend enough taking this step if you start with zero knowledge like me. It has a monetary cost, but it helps go faster."
monteysi on Reddit
"If you're looking for that sweet sweet MRR to roll into your account each month, this is the first step to take on that journey."
Max Haining, Founder of 100 Days of NoCode
"Currently about halfway through the "Become a no-code SaaS founder" course by @nocodelife. He walks you through the entire process from start to finish and makes it super simple to build alongside him. Worth every penny 🪙"
Dr Adrianne Stone
""Powerful tools need powerful teachers. Learning how to use Bubble can feel like climbing a mountain. Kieran makes it feel like a breeze and unlocks its full potential step by step until you unlock yours."
Sarkis Buniatyan aka SAKO
"@nocodelife 's course to help me build with Bubble . A perfect introduction, it helped me get started with some step by step guidance, which was needed!"
@juliangrowth on Twitter
"The course is excellent Kieran - you have a very unique story telling way of teaching."
Gregory John, Buildcamp Founder
"I had the chance to take the Bubble Crash Course. This course is perfect and very complete for anyone who wants to learn Bubble. Thanks to this course, I was able to change my job and even my life in only 2 months. Today I travel all over the world and realize my wildest dreams. Thanks again, Kieran & Pablo!"
Romain Laffitau, founder of TheNoCodeCrew
FAQs
There are loads of Bubble courses out there, why should I choose this one?
There are some amazing courses out there so I recommend you watch some tutorials from each of the tutors and find the one you prefer!
Some of the things I think make my courses a bit different are:
Some teachers are former coders who now use no-code. They tend to assume an understanding of terminology and concepts that no-coders aren't familiar with. I'm a genuine no-coder, I can't code! So I make sure to explain everything using terms anyone can understand, exactly the way I would want to be taught.
I really hate it when tutorials skip over explaining parts because they're "not important". I make an effort to explain every aspect along the way. Everything is important. As a result my tutorials are longer than normal ones, but I think the level of detail and understanding you get is better.
Here's an example video so you can get a feel for my teaching style:
Who's it for?
This course is for complete beginners or anyone early in their learning journey.
How much does it cost?
I currently have a limited-time offer of $179 for the full course (discounted from $299). I also offer PPP discounts so if you live in a country with a weak currency, please email me.
Why should I learn Bubble?
Bubble is hands-down the most powerful and best-known no-code development platform in existence today. It has over 1 million users and is growing rapidly. Demand for Bubble skills hugely outstrips supply, and is increasing all the time. It's a huge opportunity for technically-minded people who can't code to become a developer, and use their skills to add more value at work, change career, or start their own business.
Who are you and what are your credentials?
👋 I'm Kieran, based in the UK. I've been building with Bubble since October 2019 and have probably built about 50 apps! I've spent over 3000 hours in the Bubble editor. I'm proud to be a freelance Airdev Partner (one of the top Bubble agencies).
I'm also the founder of Yep.so, a landing page builder built with Bubble. My favourite thing to do is teach Bubble to others. I've made several courses and done many online workshops.In my spare time I enjoy spending time with my wife, two daughters, two cats, my guitar, and my electric skateboard!